Conditional report alerts
You can define conditional report alerts in eazyBI reports and charts to receive an automatic email when an alert on a measure is triggered (entered or exited).
Define a conditional formatting rule with an alert for the measure from table report or chart and subscribe to alerts.
See more on this page:
Set up alerts for a measure
The option to subscribe to alerts is available on Cloud and since the eazyBI version 7.0.
For the table report, click on the measure and select the Cell formatting to define conditional alerts.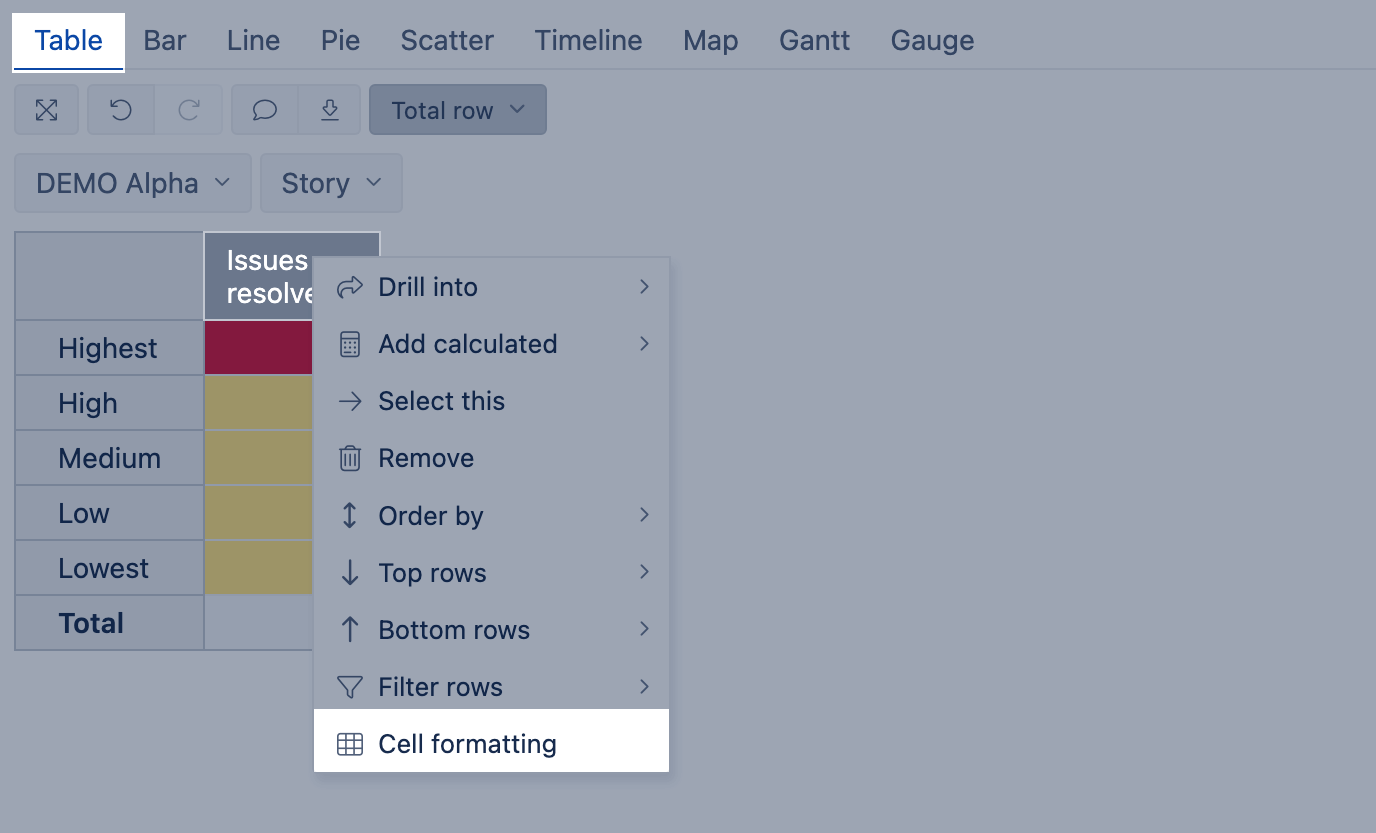 For chart view, click on a measure marker in the chart legend and select Conditional formatting.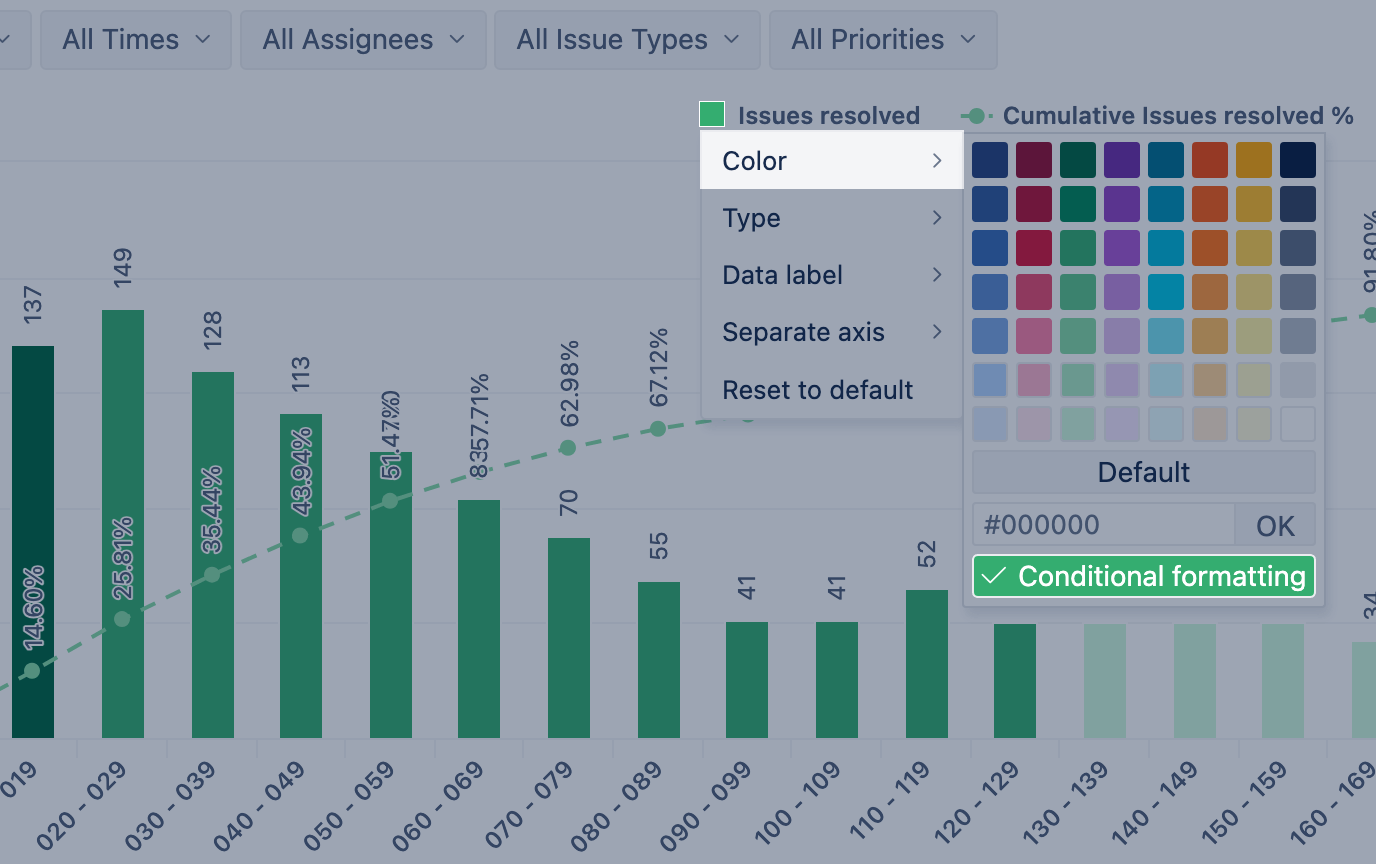 Define formatting rules for alerts
Alerts are supported for just a few conditions: value, range, or regular expressions.
Define at least one rule and specify style and color of the text or background of the cell. For the rules you want to be informed of in email, select the checkbox "Alert".
Don't forget to press "Apply" after an alert is defined.
eazyBI can send you an alert email when the value of the measure is reached or exited. For example, in the following scenario, if the measure reaches value 20, you will receive an email (alert is triggered). And another email will be sent when the measure reaches value 40 (alert for next rule is triggered).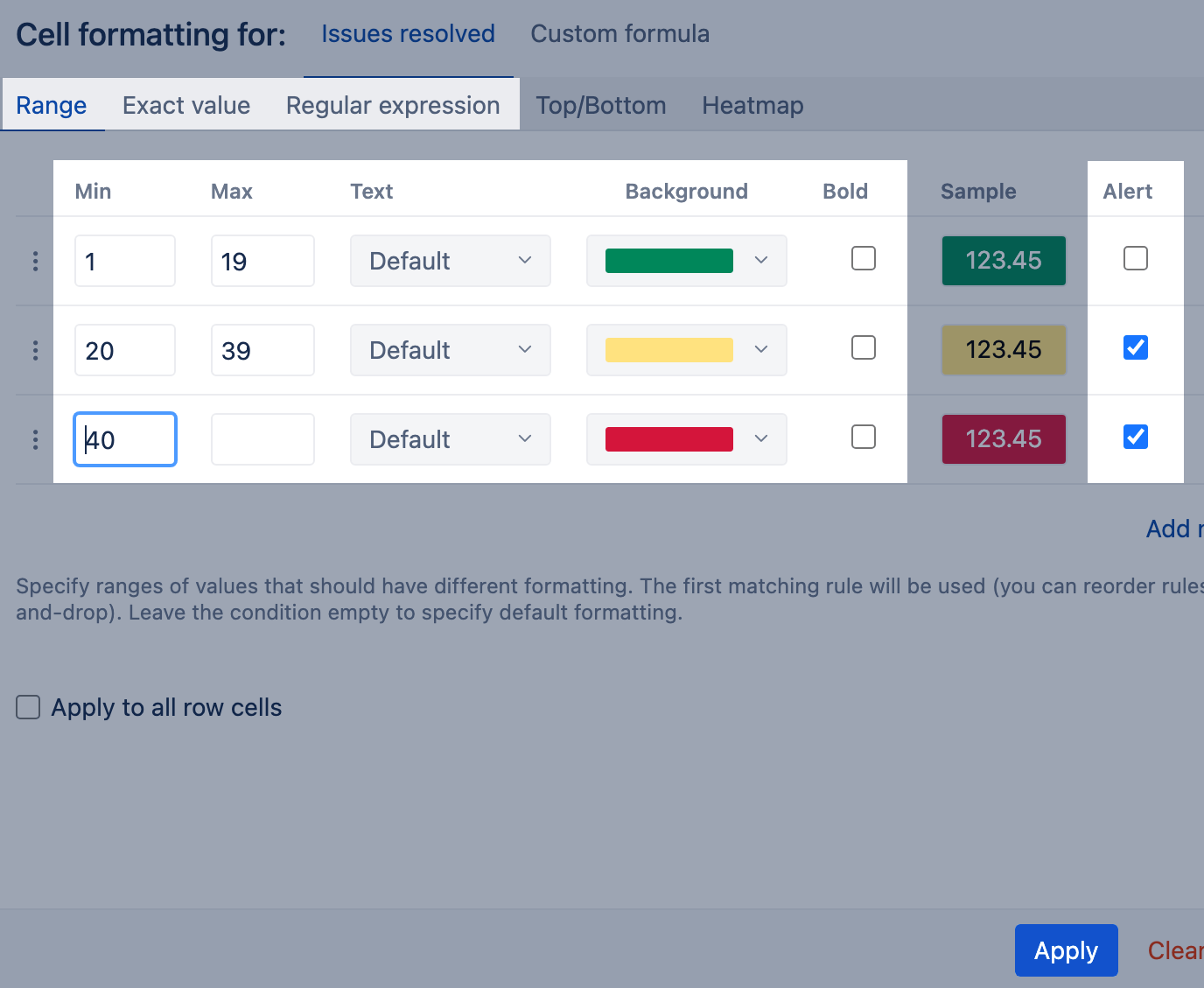 Subscribe to alerts
When an alert is set up for at least one measure, don't forget to press save changes for the report.
eazyBI detects alerts and lets you subscribe to alerts from the report actions menu. Note that with one action, the user subscribes to all alerts in the report.
After that, eazyBI sends alert emails just to users that have subscribed to alerts in the report. Other users won't receive alert emails.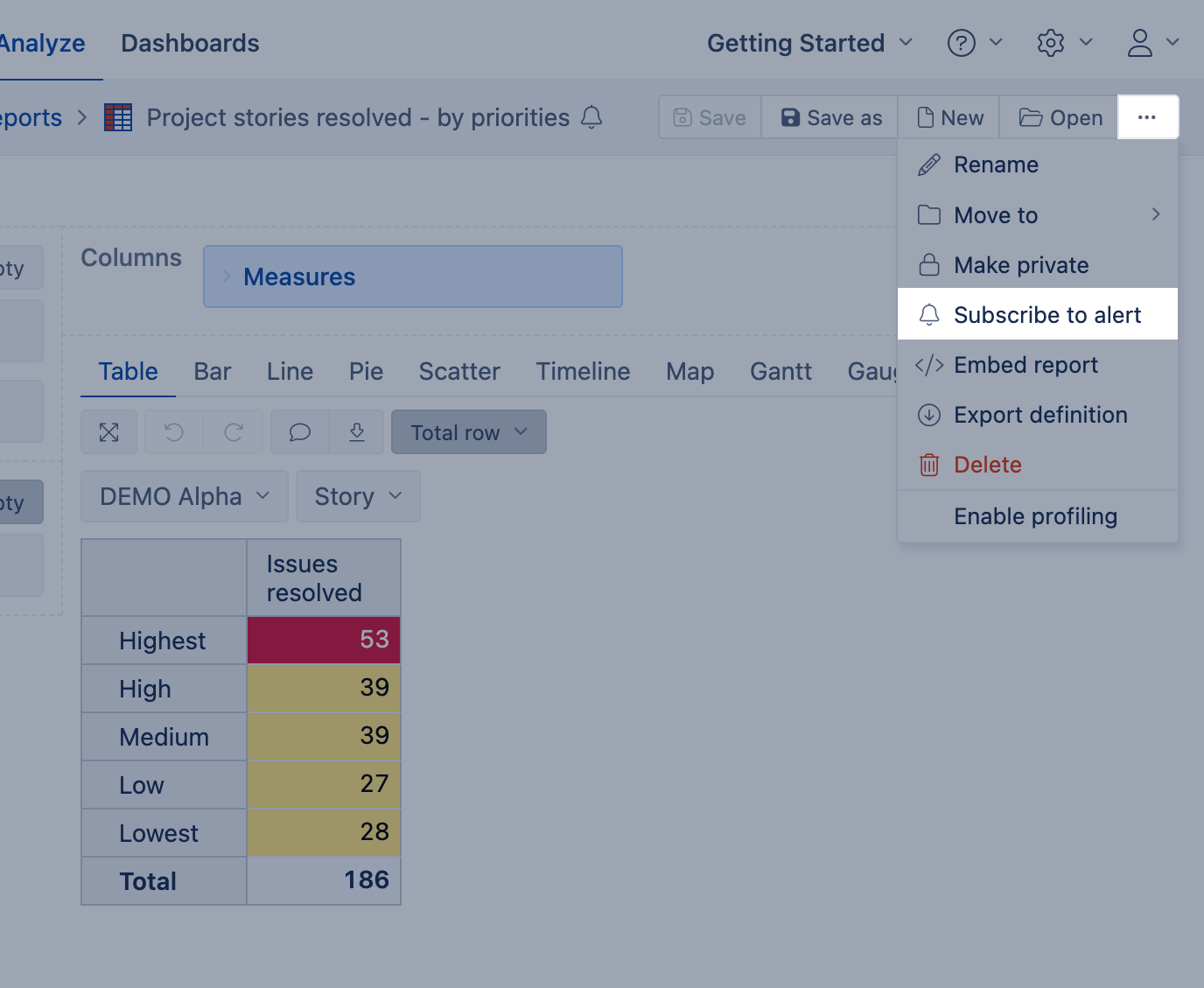 From Analyze view, you can see a bell icon for reports with defined alerts.
filled bell icon - you have already subscribed to alerts in the report;
transparent bell icon - the report has conditional formatting rules with alerts but you haven't subscribed yet;
no bell icon - the report has no alerts defined.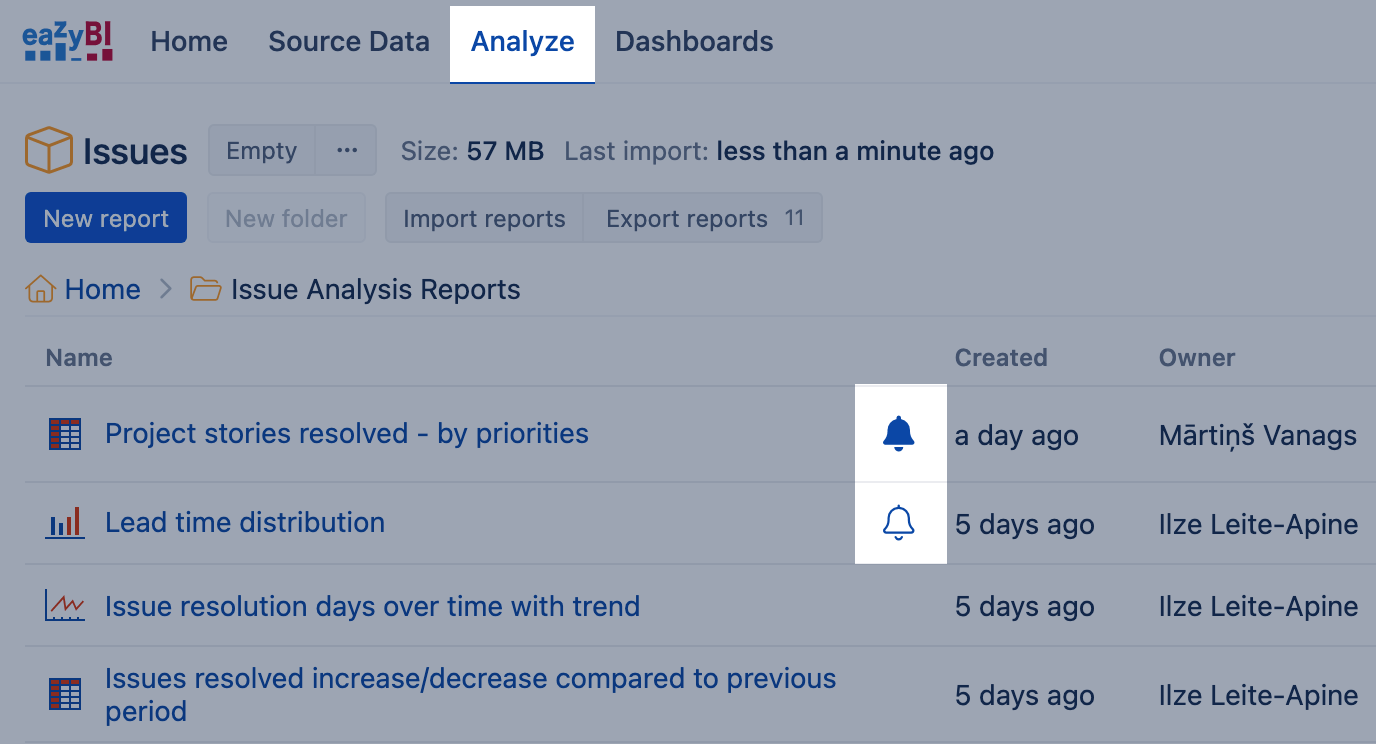 Receive automatic alert emails from eazyBI
eazyBI sends you an automated email when an alert is triggered: entered or exited the conditional rule. It won't send you any emails while the measure is at the alert level (exact value or within range).
Email is sent shortly after the data import is completed. The sender of the alert email is noreply@eazybi.com, and the subject contains the following prefix [eazyBI] Conditional report alerts .