Start Subscription
If you would like to start eazyBI subscription before the end of the trial period, click on the account name in the top right navigation bar and select Edit account. If your trial period has already expired, you will see a red warning message with a link to edit account page.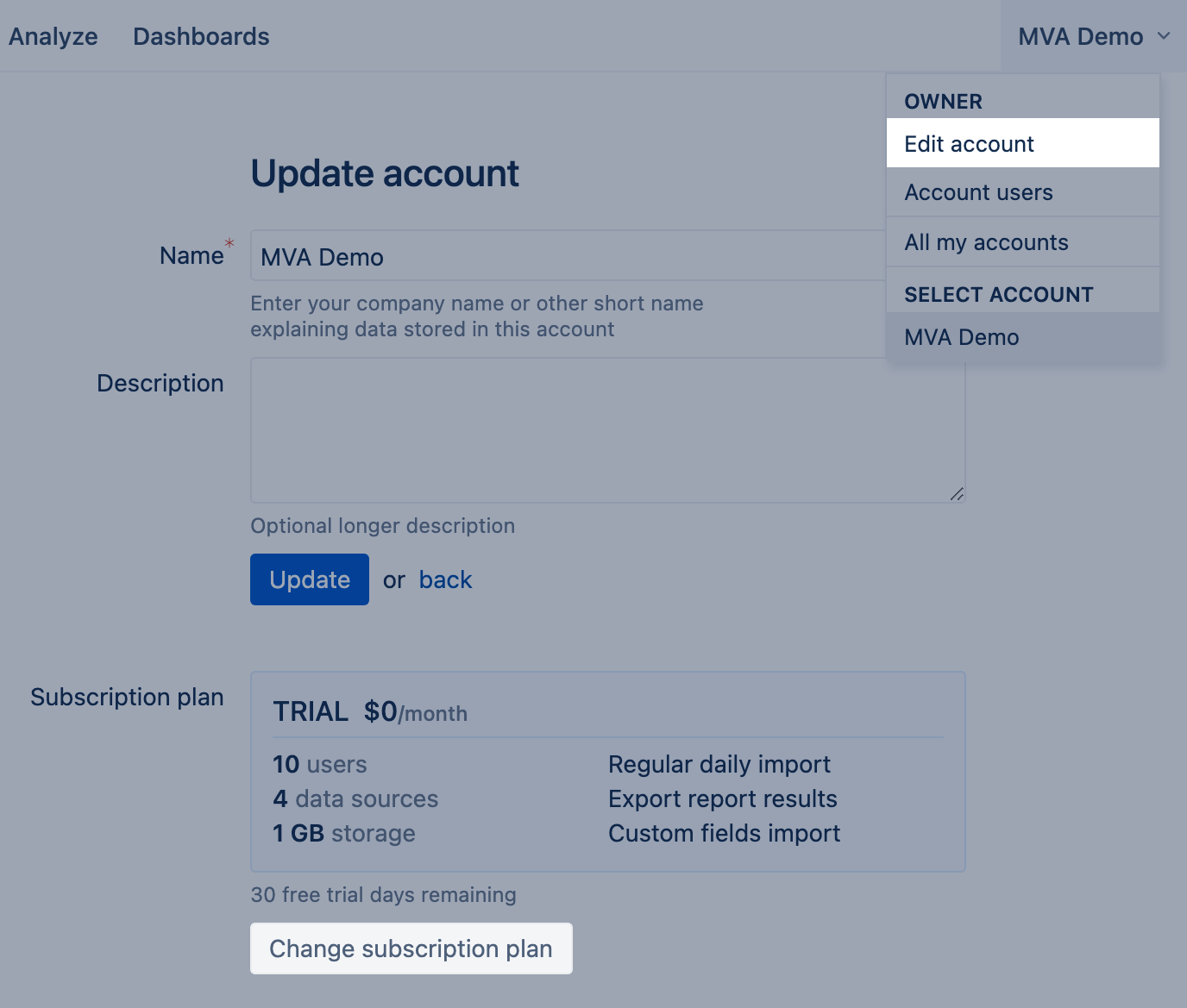 After that, you will be redirected to create new subscription page where you will need to enter your billing address (and enter your VAT number as well if you are EU country company) and click Create button.In Edit account page select Change subscription plan and review subscription plan options and select subscription plan that fits your needs best.
Review your billing address and monthly charges and select payment method:
either Visa or MasterCard (recommended option)
or PayPal

After selecting payment method you will be redirected either to credit card payment page or to PayPal site.
Upgrade Subscription
Unfortunately, PayPal does not allow easy upgrading of existing subscriptions (it limits that you can change subscription amount only by 20%).
Therefore to upgrade your eazyBI subscription from BASIC to STANDARD or PREMIUM plan (see pricing page to see differences between plans) you need to do the following:
go to your accounts page and click corresponding Subscription button
in subscription page press Unsubscribe button - you will be redirected to PayPal page where you need to cancel your existing subscription
after a moment, go back to eazyBI accounts page and check if account subscription is in Canceled status (if not then refresh the page after some while)
when account subscription is in Canceled status then click account Edit button
then you can change account plan to STANDARD and after clicking Select button you will be redirected to a subscription page
in subscription page review your information and press Subscribe button and you will be redirected to PayPal where you need to confirm a creation of new PayPal subscription
All your existing account information, data, and reports will be saved after subscription upgrade.
Take into account that for upgrade to STANDARD plan you will not have 30-day free trial - you will need to make the first-month payment right away. If it is not urgent for you then you can wait until last days of your existing trial or subscription period to make the upgrade.
If you have any issues with subscription upgrade then please contact eazyBI support.
Cancel Subscription
To cancel your subscription:
Click on the account name in the top-right corner and select All accounts.

Click the Subscription button next to the account you want to cancel
On the subscription page, scroll to the bottom of the page and click the Cancel Subscription button
If you are using PayPal as your payment method:
Go to your accounts page and click corresponding Subscription button
On the subscription page, click the Unsubscribe button – you will be redirected to your PayPal page where you will need to cancel your existing subscription.
after a moment, go back to eazyBI accounts page and check if account subscription is in Canceled status (if not then refresh the page after some while)