Skip to end of metadata
Go to start of metadata
Connecting to the Classic FreshBooks Account
To connect to your Classic FreshBooks account:
1) In eazyBI open "Source Data" page, select "FreshBooks" source application, choose a name for the data cube, and click "Create".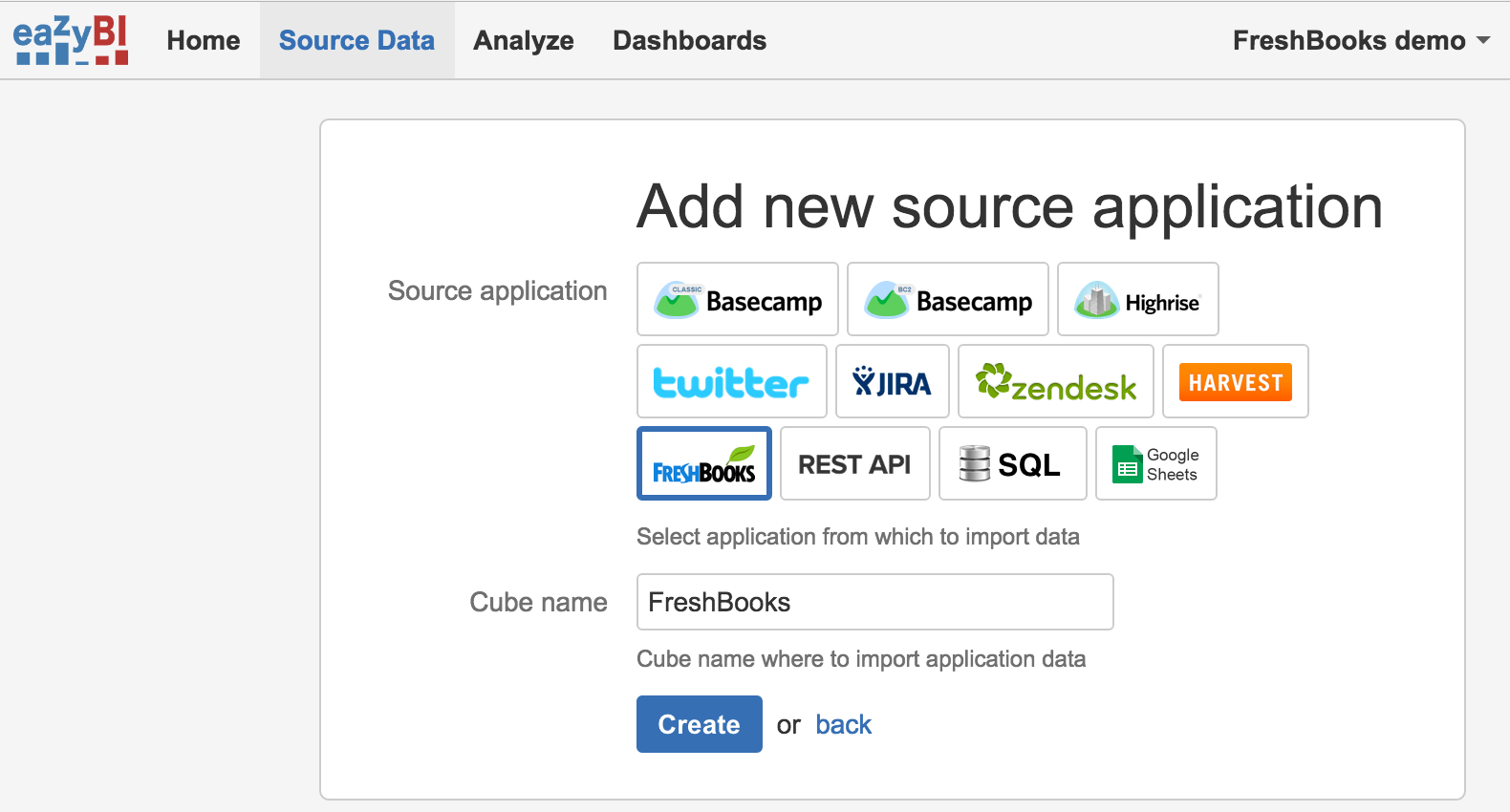 2) Select the version of your FreshBooks account ("Classic"), enter your FreshBooks site URL, and click "Continue". You will be redirected to the FreshBooks authorization page. 

3) To authorize eazyBI to import your FreshBooks account data, you will need to provide your user credentials.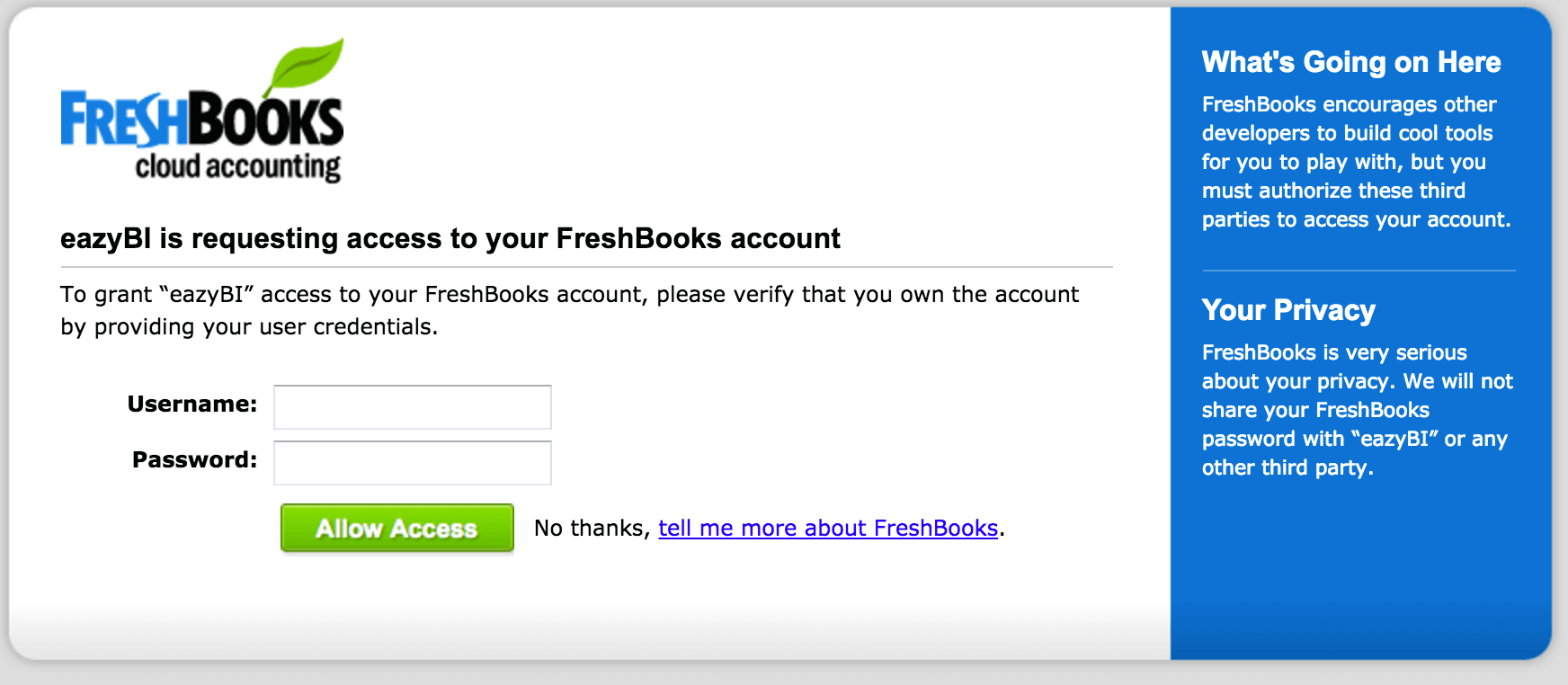 4) Congratulations, you are done!
When eazyBI is authorized, it will automatically import new FreshBooks data every day, using the same authorized access.
---
Imported data
eazyBI imports the following FreshBooks data (measures) and dimensions:
Timesheets imported and calculated measures

Hours, Billable hours, Invoiced hours
Budgeted hours
Billable amount (for billable hours), Invoiced amount (from billable hours)
Expenses amount, Invoiced expenses
Unbillable hours, Billable hours %
Uninvoiced hours, Uninvoiced amount (just from billable hours)
Uninvoiced expenses, Uninvoiced amount with expenses (total for hours amount and expenses)
Billable amount EUR, Billable amount USD and other EUR and USD amounts (see explanation below)
Budget spent % (from budgeted hours)
Project currency, Project status, Project manager
Project billing method

Timesheets dimensions

Project Task (with Client, Project and Task hierarchy levels)
Project Status (Active or Archived or Deleted)
Task (common tasks across all projects)
Person (staff members and contractors)
Expense Category
Currency
Time (year / quarter / month / day hierarchy and year / week / day hierarchy)
Invoices imported and calculated measures

Invoice amount, Item amount, Discount amount, Tax amount, Second tax amount, Due amount
Invoice amount EUR, Invoice amount USD and other EUR and USD amounts (see explanation below)
Project currency, Project status, Project manager
Invoice issued date
Invoice currency, Invoice client, Invoice status, Invoice item description, Invoice item project

Invoices dimensions

Client Project (with Client and Project hierarchy levels)
Invoice (with Invoice and Invoice item hierarchy levels)
Invoice Status
Item
Currency
Time (year / quarter / month / day hierarchy and year / week / day hierarchy)
Currency conversion
If you have projects and invoices in multiple currencies then for reporting total amounts you need to convert them to one currency. eazyBI downloads current currency rates from the European Central Bank (from http://www.ecb.europa.eu/stats/eurofxref/eurofxref-daily.xml) and defines calculated measures that convert project or invoice amounts to EUR and USD. If you want to convert all amounts to different currency then define new calculated measures using USD calculated measures asexample.
Please take into account that currency conversion is always done using current currency rates and not historical currency rates and therefore totals might not be the same as in your accounting. eazyBI reports totals in one currency are meant just to get approximate total amounts that should be good enough for management reporting.
If you want to learn more about calculated measure formulas then read calculated members tutorial.
Link from eazyBI reports to FreshBooks pages
If in eazyBI reports you click on client, project or invoice dimension member then in action list you will see Go to source link - when clicking on it new FreshBooks application page will be opened with corresponding data. It can be very useful to see summary overview in eazyBI and when necessary you can go to detailed FreshBooks page for selected item.